Captain:  Pete Kleimeer
First Mate:  Johanna (Joki) Kleimeer
Manufacturer:  Alwest
Model Year:  1972
Model:  370
Hull Number:  170
Vessel Registration:  13K 47126
State Province:  B.C.
Home Port:  Powell River
Engines:  Removed
Stern Drives:  Volvo 290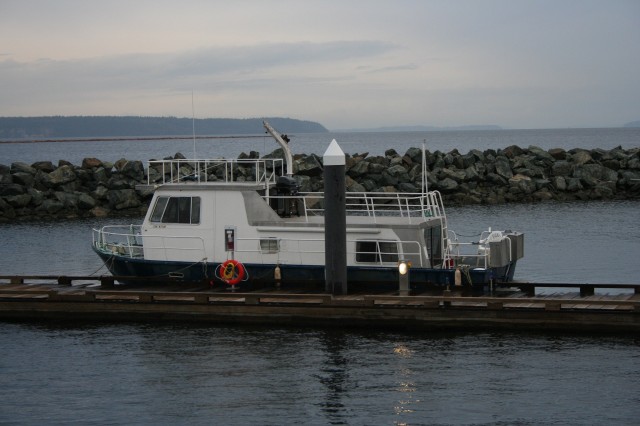 The boat was purchased in October 2012 from the Pender Harbour area where it was moored at a private dock. The boat has suffered neglect for some time now and has seen it sink a few times before my purchase. The picture is of it at the Powell River Harbour when it was brought to its new home and is now going through extensive renovations.
I have already removed engines (twin 350 Chevy's) that were beyond salvaging along with the 280 Volvo legs (only one was good). Large sections of the bottom that were pitted have been removed and new aluminum plate welded in. The superstructure had so much rot that it too was replaced  (mostly).
Note: From the picture you can tell that a previous owner has had aluminum checker plate put over the pilot house and aft deck. That was the one factor that gave me the incentive to purchase (looks are deceiving). Not that I can complain I got this boat for less than salvage price.
Work continues when I can. Plans are to re-power with twin Volvo 41 diesels @ 200Hp ea. with the drives upgraded to twin 290 Volvo's (later to dual props – if I can afford it. You know what they say about boats!).  For now I'll be researching stuff like shower, toilet, wipers, improvements that others have done not to say the least the electronics.  (God gave me the grace of an understanding spouse; although lately she has been bringing my mail by the boat which kind of has me rethinking how good an idea this really was.)
I'll have more pictures to come but I want to finish her and give [her] a name before that.