Joint Custody
Brand: Alcan
Model Year: 1969
Model: Alcan 370
Hull Number: 370-9-100
Registration Province: Ontario
Registration: 86E6060
Engines: Twin Buick V6 – 165 hp
Sterndrives: OMC
Cruise: 10 mph
Top Speed: unknown
Generator: Westerbeke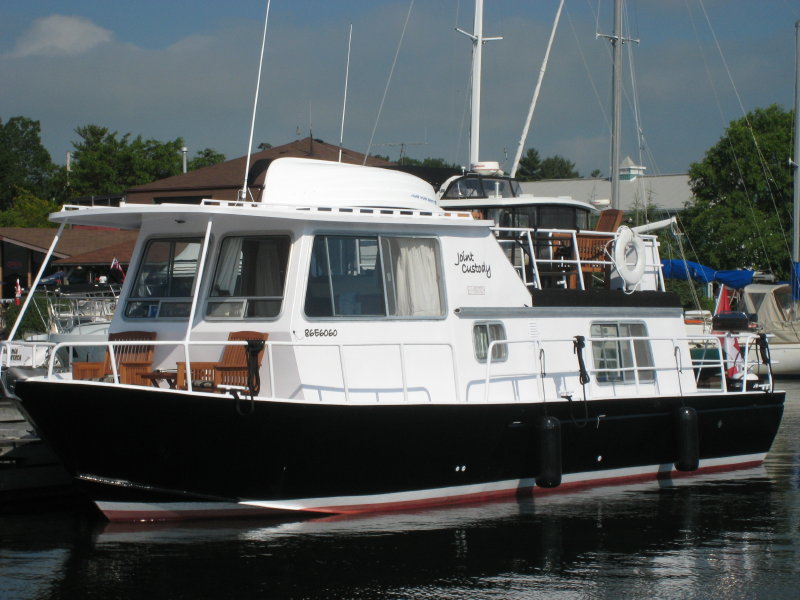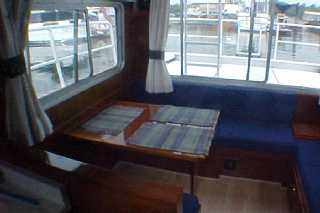 Acquisition and clean-up
We purchased our boat in August 2007. The interior had been recently upgraded but the exterior was in need of a major refresh. We sandblasted the roof and all railings as that was all that could be accomplished in one day. We coated all sandblasted areas with two part Yellow Chromate and then primed with Brightside Prekote primer within 24 hours.
In the spring of 2008 we finished painting the superstructure with Interlux Brightside white. The hull was painted with Interlux as well. Between each coat the prerequisite sanding was done and then wiped with a solvent prior to applying the next coat. We sanded the decks nearly to the metal using a 6 inch random orbital sander. This got rid of most of the nicks that penetrated the numerous layers of paint. We removed over 20 pounds of paint dust. The results were worth the effort to us.
Upgrades and re-power
We added a chartplotter to our boat which aids significantly in navigating the shoal laden St Lawrence. We are doing interior upgrades of curtains and cushions over this coming winter. Repowering has been an ongoing conversation. We are considering options which seem endless. The V6's are not matched and not worth a rebuild. It has been suggested that we replace these with rebuilt GM in-line 6's from the mid 70's. Supposedly these are die hard engines with enough horse power to push us along at our cruising speed and then some. Our current cruise is around 10 mph and we would like to be able to get up to around 18 when necessary.
Alcan Rendezvous 2008
This was without a doubt THE event of our boating season. We met many wonderful folks and hopefully developed some long time friends. It was a great time and we hope that this event is repeated for years to come. Thanks to Dave and Bonnie for making this event the success that it was.