MasterCard III
Captain: Terry Robb
First Mate: Cindy Robb
Brand: Alcan
Model Year: 1969
Model: 370
Vessel Name: MasterCard III
Registration Province: Ontario
Registration: 42E4738
Home Port: Harwood, Rice Lake, Ontario
Engines: Twin Volvo Penta, 6 cyl, diesel, 90 HP
Sterndrives: Volvo Aquamatic 250
Cruise: Slower
Top Speed: Slow
Generator: Onan 6.5 KW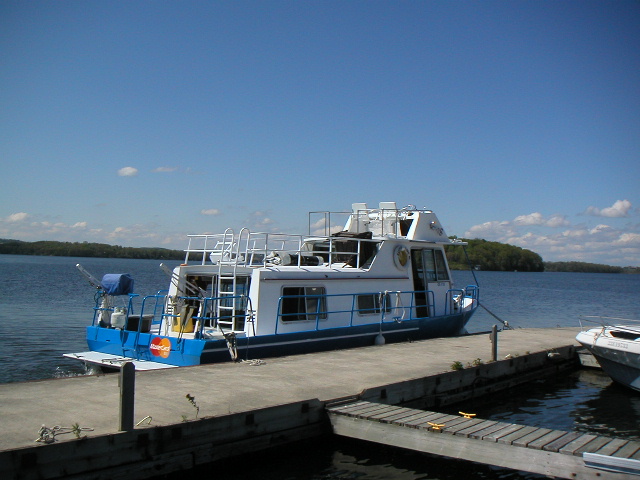 Here's the story on the name: 30 years ago we bought an old Chrysler boat/motor (70hp). We didn't know anything about it – just wanted to have fun. We didn't have any money but that didn't stop us from skiing, cruising, fishing and just fooling around. When it came time to pay for the gas… you guessed it – MasterCard. I was in the bank in Peterborough one day (getting a cash advance on my MC) when I saw the teller give this guy a big decal for his store window. "Can I get one of those please?" "Are you a merchant in town?" "Of course" Stuck it on the transom two boats ago and haven't looked back. Still use the MC for my fuel. Can't ski behind this baby, but still having lots of fun.
Every year the little Hamlet of Harwood on Rice Lake (where we keep our boat) has a bit of a show to celebrate summer and includes a boat parade. We usually dress it out as Hawaiin or Pirate themes but this year we got our inspiration from "The Highway of Heroes". Cindy and I stopped the Sunday before and took in the 401 tribute to six fallen soldiers as they came through Cobourg. Read the story here. See the movie.
Started out with a couple of Canadian flags, added a Royal Canadian Legion flag, grew with over 100 yellow ribbons wishing our troops a safe return home, 66 poppies attached to a 12 foot yellow ribbon honouring the 66 soldiers who have died and topped it off with a piper (good friend Gord Hunter) from Branch 133 of the Legion. If we try the same thing next year we're aiming to get the whole band and already have an 8ft by 24ft flag lined up. Actually, it would sure be nice to not do this next year and go back to being a pirate.
"SAFE RETURN HOME!"