Captain: Gary Pye
First Mate: Cara Pye
Manufacturer: Alcan
Model Year: 1969
Model: 370
Hull Number: 370-9-84
Vessel Registration: 50E 69179
State Province: Ontario
Home Port: Belleville
Engines: OMC 225 CID 6 cylinder gas 155 hp
Stern Drives: Johnson
Cruising Speed: unknown
Top Speed: unknown
Generator: onan 2 cylinder gas 6.5 kw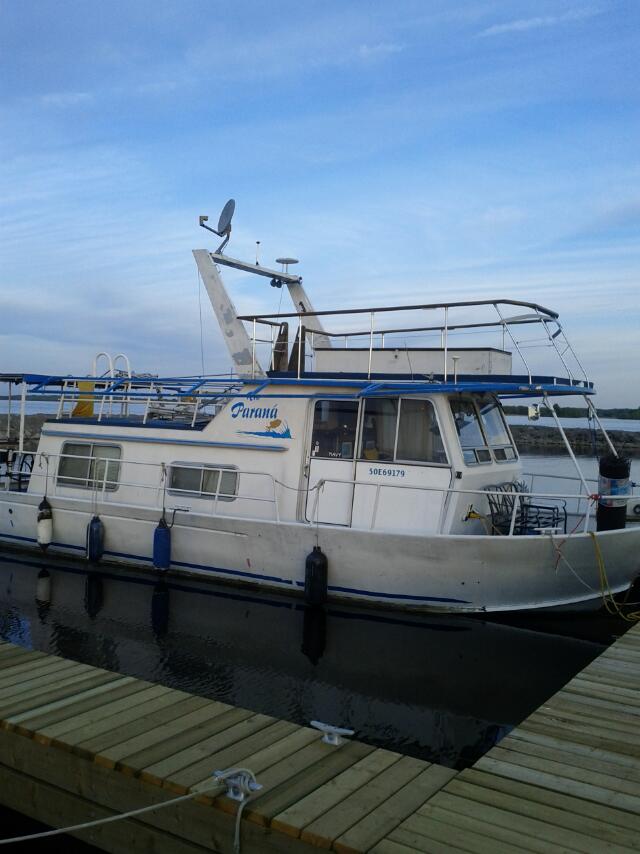 Comments: We bought her in the Spring of 2013 from the son of the late Edward Murphy in port credit Mississauga Ontario.  We are year round liveaboards. We couldn't be happier with our choice in boats. We are fixing her up as we go. We have removed the radar arch because it was to much of a pain to put up the winter frame and wrap it. We have added a fencing around all the railings to keep the cats in and safe. We plan to pull the boat this summer and replace the impellors, zincs, fresh paint and remove the 1960s depth finder and weld the hull where it went through. We plan on installing a bulk head solid fuel burner before next winter. Our wish list contains, wrap around seating up top/fly bridge, natures head toilet, new flooring and a total conversion to electric propulsion.