For 2013 the Alcanboats Rendezvous was held in beautiful Prinyers Cove.  The location was spectacular and the people were terrific.
For Buster, the rendezvous started out Thursday morning in Portland.  We took off early and started locking through the Rideau Canal system with the goal of reaching Kingston by noon on Friday.  We suffered a few mechanical problems, but dealt with these as they came up and handily made it through to Kingston.  We stopped long enough to pick up Bonnie's sister Karen and then proceeded onto Lake Ontario and up the Adolphus Reach.  The wind was blowing hard almost directly on our bow, so the run was pretty lumpy and wet.  We arrived Friday afternoon and got settled into Prinyer's Cove Marina.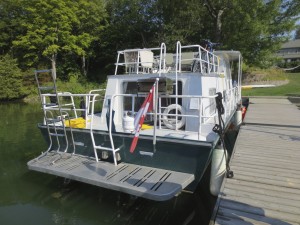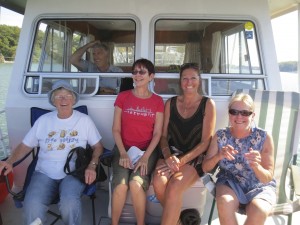 We took a bunch of people out for a cruise on Saturday afternoon.
We forgot to assemble for the group photo, but Barb managed to get a shot that had most of the people enjoying the pot-luck dinner.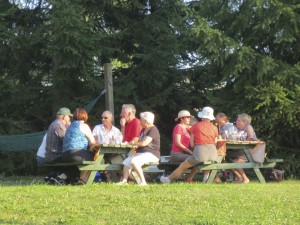 Thanks to Barb for the pictures.
See all of Barb's pictures