My home-brew chart-plotter
I have always wanted a GPS chart-plotter for my boat, but could never justify spending the money.  We boat in the Thousand Islands in the St. Lawrence River.  We are never out of sight of land, we have all the charts, and we know the area pretty well now.  That means we never need the chart-plotter, at least not enough to justify spending the $1,500 to $2,500 it costs for something with a reasonably sized screen.  I could have gone off and bought a smaller one for $700 to $800, but they all have dinky little screens.  So I start playing around with chart-plotting software for the PC.  I loaded Fugawi onto my laptop and purchased a Garmin GPS-35 receiver.  The receiver sends an NMEA-0183 GPS signal to the serial port of the laptop and the mapping software picks up the signal and places you on the map and gives all sorts of useful information.  I did this a few times and decided I was going to do something more permanent, so I purchased a used computer from a police car.  The computer was a Datalux Databrick with a Pentium-200 processor, 16MB RAM and a 2GB hard drive.  The computer also came with a 10″ color LCD touch screen display with pretty good brightness and contrast.  The touch-screen lets you work without a mouse.  The unit also came with a keyboard that was back-lit.  The whole thing mounts in a fairly small space and cost around $200 after shipping.  The computer also came with a Sierra Wireless cellular modem.  Unfortunately, it was for the analog cell network and kind of slow, so I did not bother making use of it.  However, it came with a nice surprise.  The modem was a MP-200-GPS.  The initials "GPS" twigged my curiosity.  I did a little reading on the Sierra Wireless web-site and sure enough the unit had a Trimble GPS daughtercard built into it.  I have not tried to pull it out and wire it up but, based on the manual, I should be able to put it in a project box, give it 12V and a RS-232 driver and plug it into the back of a computer.  If it works, I will have another GPS receiver.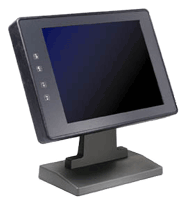 10.4″ Colour LCD Touch-Screen display
Not enough computing horse-power
After some experimentation I concluded that the P-1 200MHz was just not up to the task of running on-board automation and navigation.  I wanted to upload my MP-3 music library to the computer to play anything from my CD collection.  I also wanted to run something more recent than Windows 98.  I bit the bullet and purchased a mini-ITX computer from ITuner (see www.mini-box.com).  I used their VoomPC car enclosure and a 1.2GHz mini-ITX motherboard.  After purchasing memory, power-supply, hard-drive, etc. I was into the system for another $400.  So, I probably am not ahead financially, but now I have something more to tinker with on the boat.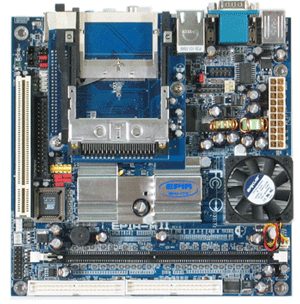 Mini-ITX motherboard from www.mini-box.com
Mini-ITX is a motherboard form factor intended for low-power, industrial use.  The motherboards are 17cm x 17cm (or 6.75″ x 6.75″).  They can come with variety of built-in capabilities suitable for building internetworking gear, up to full-blown P-4 PC's with built-in video and I/O.  In the case of my chart-plotter, I was looking for full PC functionality.  However, I also wanted to minimize power consumption as it would be running off the house batteries.  So I compromised and went with a 1.2GHz Nehemiah core processor.  The resulting PC is fast enough to run the plotting software, and play tunes at the same time, while consuming a little over 1 Amp at 12VDC.   Hardware configuration:
| | |
| --- | --- |
| | VIA EPIA-MII-12000 Mini-ITX Motherboard with VIA C3 1.2GHz Processor |
| | 256MB DDR266 RAM |
| | 60GB 2.5″ Hard Drive |
| | M1-ATX 90W DC-DC Power Supply |
A note about the Power Supply
One of the issues in putting a PC into a boat or car is getting clean power to the PC.  A regular PC uses a switching power supply that requires 120VAC input power that would required either a generator or an AC inverter.  The Power Supply I chose is a DC to DC unit that can operate on 6VDC to 24VDC input.  The low-voltage capability means that the PC can keep running even if you crank an engine causing the battery voltage to dip.  I have only had one re-boot due to low-voltage, and that was when the batteries where very low and I started an engine.  Interesting to note that these power supplies have an ATX connector on them and could be used with almost any PC.  It does not have to be a Mini-ITX motherboard.  You could take a regular PC motherboard and run it off of 12VDC.  Keep in mind that a regular motherboard with an Intel processor would likely need more than 90W, so you would need to purchase a higher-output supply.
Software
Given I already owned a license for Fugawi, it made sense to run MicroSoft Windows.  I elected for Windows XP Home Edition as I did not think I needed any of the additional functionality found in the Pro Edition.  So far, no regrets.  There was probably an argument in favor of Windows Multimedia Edition, but try finding a copy in a sale bin at your local computer store.  Software configuration:
| | |
| --- | --- |
| | MicroSoft Windows XP Home |
| | Fugawi 3.1.4 |
| | NDI Charts (NW7 – Kingston to Montreal, and NW10 – Rideau to Ottawa) |
| | Windows Media Player |
I am struggling with selecting the multimedia software.  Windows Media Player has certainly improved over the years, but it is not the easiest interface to work with.  I have experimented with others such as iTunes, but have not yet found the right software.  There are a number of articles on the web regarding constructing a car PC, and dealing with the user-interface.  It appears that the problem has been solved a few times already, I just need to figure out how to make it work.
Budget (so far)
Hardware

   

  $700

   

Software

   

  $240

   

Charts

   

  $300

   

Total

   

  $1240

   
Did I save money over buying a chart-plotter?  Not exactly.  However, most chart-plotters do not come with charts, so you would need to add about the same $300 to any chart-plotter you bought.  So, given that I can store and play my music library on this device and keep our boat log in it, I am pretty happy.